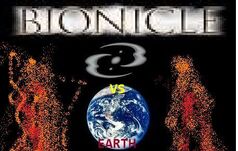 BIONICLE Vs. Planet Earth is a comedy by HubertZhu18 (Known as Hubert at the time). It is about the battle between humans and the Bionicles. It is Hubert's second comedy. There are Hubert's own characters, and several BIONICLE characters, who have rather small roles. It has also had a crossover with Virthree/Vrf3: Toa of Fire's comedy, The Sniper of Bzpower.
CREW OF THE B.S.S. AWESOMEEdit
PIZZARISONIKA MAKULIANA EXCEPTIONALPERSONOFAWESOMENESS
Zaphos
Dr. Insaniac (1st Guest Character of The Brickfather)
Kalamai (Guest Character of Vamprah9588- Omega of Fire)
Xeno Nui (2nd Guest Star Character of The Brickfather)
BIONICLE CHARACTERS
Edit
Hewkii
Hafu
Jaller
Tahu
Pohatu
Ad blocker interference detected!
Wikia is a free-to-use site that makes money from advertising. We have a modified experience for viewers using ad blockers

Wikia is not accessible if you've made further modifications. Remove the custom ad blocker rule(s) and the page will load as expected.